I work as a freelance double bassist and violone player across Europe. I studied historical bass with Margaret Urquhart and received my Master's degree in historical bass and violone in June 2018. In the same year, I started performing with the Orchestra of the Age of Enlightenment as part of their Experience Scheme, which has resulted in regular performances with them as a substitute player. Other early music ensembles I play with are the Nieuwe Philharmonie Utrecht, Música Temprana and the Bremer Barockorchester.

On the modern double bass, I love playing modern and contemporary music. I have had the pleasure to perform various world premieres of contemporary music, such as the opera "The Light of Lesser Days" by Oscar Bettison, with the Netherlands-based ensemble Asko|Schönberg in September 2021. Other contemporary music I performed is, among others, the opera "Agreed" by Howard Moody; the music theatre production "Die besseren Wälder" by Dominik Vogl. Next to that, I started DUO Kirsti & Eva with violinist Kirsti Apajalathi, to perform modern pieces for our unusual combination of instruments.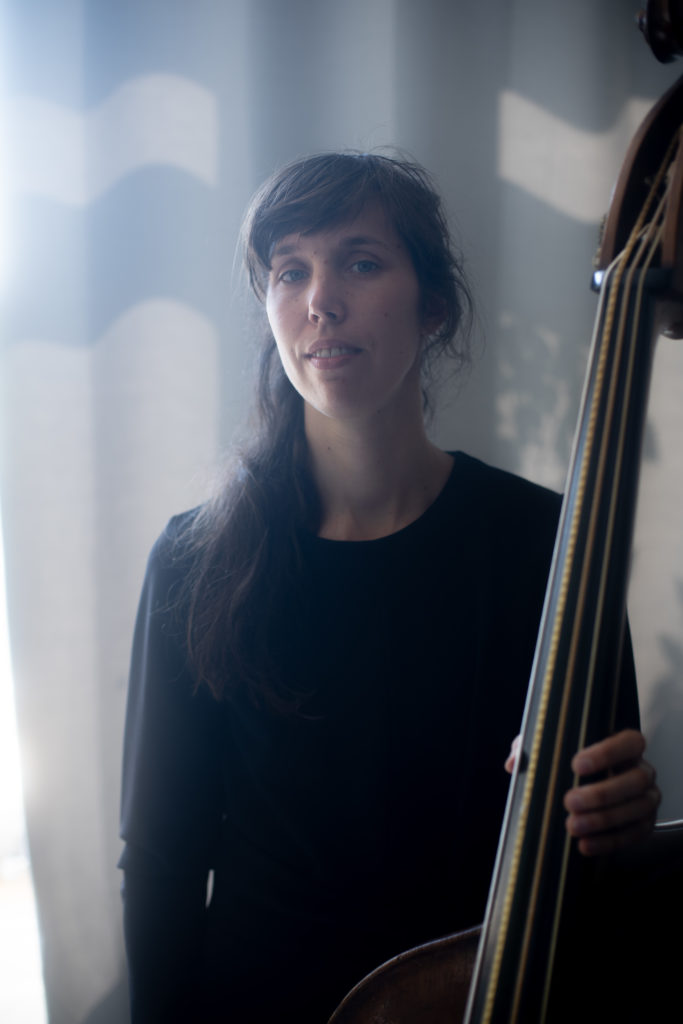 I was born (1988) and raised in Amsterdam and started violin lessons at the age of 6. I had the privilege to attend a high school one block away from the Concertgebouw so I regularly attended concerts there as a teenager. My interest in the double bass started in my youth orchestra and at the age of 16, I switched from the first violins to the basses, where I felt much more in the right place. Nevertheless, I thought a musical career wouldn't suit me since I was also interested in social and political studies, so I decided to study law at the Erasmus University in Rotterdam. I was very lucky to meet Ying Lai Green, bassist from the Rotterdam Philharmonic Orchestra, with whom I had lessons for 4 years. Thanks to her support and encouragement, I not only got accepted for double bass studies but I also finished my bachelor's degree in law.
During my studies in classical double bass with Quirijn van Regteren Altena (Utrecht Conservatory), I have received amazing lessons in historically informed performance practice from cellist Viola de Hoog, violinist Antoinette Lohmann and bassist and gambist Joshua Cheatham. I love the combination of delivering strong emotional expressions and intellectual, historical knowledge.

On the modern bass I received masterclasses from world-class bassists such as Joel Quarrington, Jeff Bradetich, Edicson Ruiz and James Oesi.
I am also a member of two young early music ensembles:
Ensemble La Favorita, which made a kick start in summer 2017 in the early music festivals in Brugge, Utrecht Fringe and IYAP Antwerp.
Das Neue Mannheimer Orchester, with which we won the Hofkapelle Preis for 2019 in the International 'Gebrüder Graun' Competition in Germany.
The modern double bass I play is a Gagliano model built by Harry Jansen in 2008, borrowed from the Dutch Musical Instruments Foundation. Thanks to a grant from the Stichting Eigen Muziekinstrument, I could purchase a double bass from around 1890 to use for historical performances. In addition to these basses, I have several bows, including one orginal bow from around 1800, that fit the repertoire I play. During my studies , I have also received a small grant from the Adriana Jacoba Fund, for which I am very grateful.